This is an advertisement I posted on Instagram at the end of August, when I realized I didn't have any stable nor significant offers for the upcoming season, and with the money I had I'd be able to survive for only a month and a half maximum.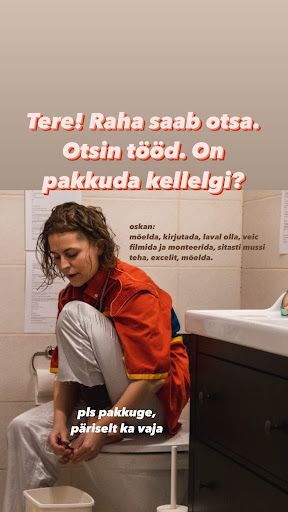 The ad got a response from:
Heneliis, who suggested I could write an article to MAGASIN about what young performance artists do after graduating, "I could pay you 75€."
Anita, an old coursemate, who invited me to work at a bar - in the beginning 5.50 an hour, I said I'd give it a thought.
Siim asked if I'd be willing to distribute Kanuti's posters, 80 cents a piece. I accepted the offer and made 40 euros for two rounds.
Hendrik offered to record an episode of 'absent translation' for elektron's podcast, 50 euros.
Johhan (thanks to Heneliis) offered an assisting role for the extra performances of his solo, 20 euros per performance, 100 in total.
Jürgen suggested to participate in films and series as an extra, "you'll at least get some invites each week". I tried it, as an office worker in the series "Estonia" (you - can see me walking past the curtains in the office). The fee for the evening (16.30 - 23.30) was 30 euros and let's just say I wouldn't bother to try it again.
Thanks to Jürgen's suggestion, I also found a way to collect some prizes from the commercial world. I recommend everyone to get their claws on the TV money and transfer it to the art world. The fee for participating in the show + the prize money without taxes is 1692€.
In total, I have managed to earn about two tons in September. With a lot of willpower, it could even last until December, although the mentioned income is not stable.
In my spare time I've played chess with old people a couple of times, tried to keep balance on a skateboard, written (for myself and others), tried to upgrade my home, made some music, etc. I've also spent a fair amount of time partying, hanging out and on social media. I also donated my eggs.
So, in answer to the question posed, this is roughly what I'm doing as a young performance artist a year and a few months after graduation. Almost related to my "profession", but the only way to fulfill my artistic ambitions is still just in text.
The first year of my life as a 'freelance performing artist' was smoother and more related. I started the season with extra performances of my graduation piece, went to PAF for 2 months with Erasmus money, made an exhibition at Telegramm, spent half a year sabotaging with elektron, created a pretty good performance for Maardu Dekennaal, started writing (also for money), started a "band", filmed and edited a music video (x2) and on top of all that I got a creative grant. It was pretty cool.
In parallel, I was in contact with both STL and Kanut since last September about the ongoing season. They heard me out, but we didn't reach any agreements. And somehow, just like this, there was nothing awaiting (except for going to PAF again in November).
Logically, one could conclude that once an artist starts to work their way up, it gets easier with each following year. In a panel discussion at the Draama Festival on September 11th entitled 'Where do young performance artists go?' (which I didn't attend), it was pointed out that often the first performance goes smoothly because people are interested, but fewer and fewer young people get to the second and third performance. It's not so easy to get another chance, because there's many people waiting in the queue and the curiosity has worn off.
There's no way to make a living just running between Kanuti and STL. Of course, there could be more opportunities to pursue a professional career, and in principle you could say there are - there are always alternative spaces/areas/places. The main concern that this raises (apart from the fact that there is less credibility to ask for money without an institution) is finding a competent producer (or other organizational help), given that, according to the model of the Endowment of Culture, you can't apply for a salary of a producer, curator or an organizer. Applied higher education does not teach self-producing, but rather produces students for 'paid work'.
Of course, young people (me) get the feeling that fuck, I'd just like to get it on with and materialize my ideas that have been put on hold. While staying on hold they may of course develop some extra layers, but if most of the ideas won't materialize, there is no space for new ones or even any motivation. The most important way to develop and learn is through practice, because you don't build up experience just by thinking. So a young person may feel that perhaps there actually is no need or any point for it and then quit.
My answer to the never-actually-asked question, "what should young performance artists do after they leave school?" would be at the moment: look for new hobbies. According to one of the professors, they have less motivation to teach young people, knowing that the chances of them hitting the big time and finding work are tiny. Fortunately, none of us are any different in this aspect. How many full-time semioticians do you know? And yet they graduate every year. It's the same with young performance artists: some write, some make music, some act in a film or a series, some work at the Kai Art Centre, some went on to do a Masters, some work in a café, some in a bar, some teach, etc.
The second question is whether young people necessarily need opportunities, given that their competitors for funding are established and experienced artists who have proved themselves. Having already represented Estonia abroad and hustled like hell to get to the top, perhaps it's not fair to fight over money with losers who haven't even earned their credibility. At the same time, why train these young people at all, when in the first place only those will have a chance who have loving mommies and daddies to help them pay for the energy bills. As the Theatre Union has said somewhere, we are very proud of our Pärt's and Ulfsak's, but in order for new ones to emerge, perhaps a little more support should be given to young people.
The idea of a "youth house" - a new performing arts centre aimed mainly at young people - was also mentioned at the Draama festival. If such a thing were to actually happen, it would be amazing. Young folks wouldn't take the places of old farts, established houses wouldn't have to worry about young people, and everyone would basically be happy, except for the rigidity of the gold pot of the Endowment of Culture.
Who should create this house? The young people themselves of course, what's the point in expecting someone else to do it for you. Maybe the only one to do it would be Ruslan, who's been talking about this youth house idea for years. However, to qualify as a performing arts institution, you need to have been active for three years, and money, applying for which young people are less credible and less skilled at than oldies.
In any case, it would be fucking great if there were more opportunities. And of course, more opportunities are desirable in any field. As mentioned at Tantsumassiiv this year - dance, religious studies, critical thinking and the tools to deal with one's emotions are all forcing their way into school education (because they think they're incredibly important). Social studies and literature are more important than maths, and maths, of course, is even more 'important' than all of the above. Not everything that is needed can be fit in the school curriculum, just as all the artists cannot be accommodated under the roof of the Endowment of Culture.
Wiser people say that there is a disproportionate amount of math in school anyway, given that studies show that it is not even that stimulating for the brain. I wonder if in the art world this means that ballet, opera and classical theatre are overfunded (given that we don't even have that culture, and studies show that the Estonian National Opera is a total failure by world standards)? I don't know, and in that sense I'm just a lame youngster lashing out (no sarcasm intended).